With a much-anticipated sold-out show that delighted tens of thousands of proud Army members who packed into the venue, BTS kicked off its four-night takeover of Los Ang's SoFi Stadium on Saturday night. In their two-hour set, the boy band performed some of its most flawless dance moves, and confetti, smoke, pyrotechnics, and pyrotechnics.
A major reason for the night's success was the star power of seven BTS members - RM, Jin, V, J-Hope, Suga, Jimin, and Jungkook.
But Don't worry if you weren't there, as here are some of the best highlights from the BTS SoFi Stadium for Permission to Dance Tour in Los Angeles show: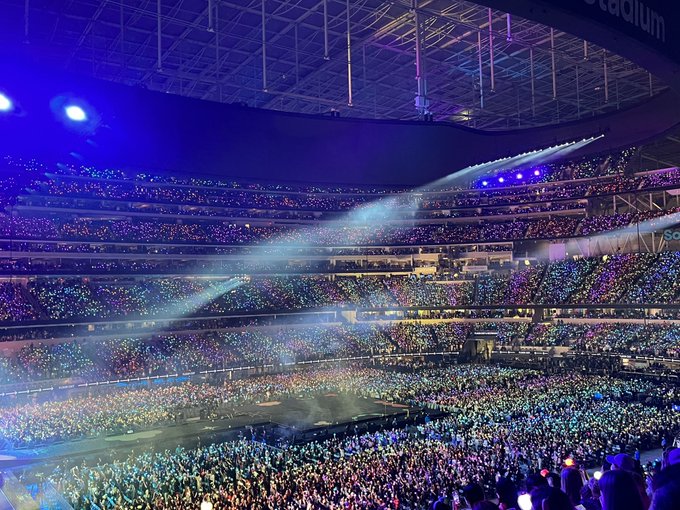 There's no need to be surprised by the fact that BTS knows how to put on a show. Featuring a massive video screen viewable from anywhere in the stadium, everyone can get an up-close and personal view of their favorite K-pop supergroup from the front row to the upper levels.
By bringing so much energy to the live show, BTS aimed to keep fans fully engaged during their live performance. Through their slick choreography and even slicker cinematography, it was impossible to figure out where to look.
The Outfits, the septet definitely did not disappoint with their LA appearance, as they are known for their cutting-edge style. The group began the night in all-white and silver, starting with "On," before transitioning later in the set into a more formal (and sexy) look with "Black Swan." Other outfit changes included a funky '70s look.
A couple of decades later, we are able to bring back some '90s-inspired looks with denim, backward hats, neon, and multicolored jackets.
For Crowd Surfing, It was on mobile platforms that the group "surfed" through the crowd at the far end of the arena in a safe and secure manner, moving beyond its stage (which extended halfway through the floor area) and engaging with as many fans as possible.
While performing "Telapathy", BTS split into two separate pods that were pushed around the edges of the floor seats so the audience could get a better view and meet again on the other side. 
The seven-member band was surrounded by a devoted fan following that cheered them on at every turn. The line-up for the opening night event began on Friday for a Saturday showtime of 7 p.m.
The BTS light stick, which was particularly programmed to light up in time with the show, was one of the most popular retail items.
Thousands of lamps flared and flickered according to BTS' sounds during the performance, dazzling across SoFi Stadium and spelling out BTS Army in the crowd. The BTS tour will continue in Los Angeles on November 28th, December 1st, and 2nd.